How Our Sip + Swap Helped Shoppers Save Hundreds of Dollars
By Hannah Elauria
Lacie and I started Lum A Terra Media with the goal of educating the consumer on making more socially-responsible purchases by highlighting the companies and brands who are in business to make a difference in this world someway, somehow.
About 6 months into our start-up journey, we had the idea of hosting "Sip + Swap." The event was just like what it sounds like — an interactive experience where guests bring a bag of clothes to swap, and sip on some (sustainably-made) cocktails and vegan brunch while our team displays the clothes as a pop-up style shop. Since we had hosted a clothing swap with our close friends before, we knew that this experience could carry more weight and and make an impact on our society when done on a much larger scale.
We approached Sip + Swap with the aim to educate our attendees about the harmful effects of the fashion industry on our planet and its inhabitants. For example, according to the UN Environment, "the fashion industry produces 20 per cent of global wastewater and 10 per cent of global carbon emissions - more than all international flights and maritime shipping. Textile dyeing is the second largest polluter of water globally and it takes around 2,000 gallons of water to make a typical pair of jeans."
Most of our attendees came into Sip + Swap without this knowledge and were floored by other statistics we gave such as the amount of water it takes to make a single cotton t-shirt (by the way, it's 2,700 liters of water; that's enough drinking water for 3 years!). Upon getting hit in the face with some hard facts about the fast fashion industry, we then guided them through a way that they can give back to the planet and still stay in fashion: by participating in Sip + Swap! The beauty of our event was that we were able to educate our guests about the impact of their past clothing purchases, while also giving them the opportunity to participate in the sustainable fashion movement right then and there!
On top of speaking about the impacts of fast fashion, we also surrounded our guests with socially-conscious companies and brands as they sipped and swapped! Although we could have partnered with a plethora of different companies, we chose to partner with the brands who are in business to pave the way towards a more sustainable and ethical Planet Earth. In doing so, our guests were able to explore and discover more eco-friendly ways to live their lives! Check out the earth-loving vendors and partners we had:
GoMacro
Founded by a mother and daughter with the mission to spread the benefits of plant-based living, GoMacro is one of our favorite sustainable snacks! Their mission is "People. Planet. Balance." According to their website, "By only taking what we need from our planet and giving back when we can, we encourage others to follow in the pursuit of living in balance with ourselves and nature." Find out more at www.gomacro.com
STRW Co
STRW Co., or, "Surf The Reusable Wave," is a reusables company started by two surf-preneurs in San Diego. Co-founders Etienne Elsaesser and Paulo Serrano have a love and passion for all things ocean, as well as a mission to bring that passion into their careers. Through STRW Co., the power duo is making an impact in fighting the need for single-use plastic! Check them out at www.strwco.com
The Nada Shop
Plastic bottle who?! The Nada Shop is Encinitas' one-stop-shop for all things zero-waste. Located on Highway 101, this refillery provides the community with a sustainable and ethical source to restock your home with hair & body care, household cleaners, and more! A low-waste lifestyle is becoming more and more popular as people become more environmentally-aware; The Nada Shop helps their customers transition from a single-use lifestyle to a zero-waste one! Check them out at www.thenadashop.com
365 Letters From Mom
#ItsAboutTime we start talking about mental health! A non-profit built on education and awareness, 365's mission is to encourage open communication surrounding mental health awareness within our homes, schools and communities. I met Sarah Kraemer, founder & CEO of 365, in college, and I couldn't be more proud to stand alongside her company as we light the world with positivity and education! Find out more at www.365lettersfrommom.com
PangeaSeed Foundation
Founded on a passion for saving our oceans, PangeaSeed Foundation is a non-profit which brings awareness to the safety of our seas through Science, Education and ARTivism, (or S.E.A.)! Their groundbreaking public art program, Sea Walls: Artists For Oceans sparks conversations throughout the world about current struggles our oceans are facing, and how we can help. With their band of incredibly-talented contemporary artists, PangeaSeed has reached over 15 countries with over 350 murals painted! Find out more at www.pangeaseed.org
Mesa Rim Climbing & Fitness Center
Go climb! Have you ever been rock climbing? It's one of the most enthralling and memorable experiences in our opinion. Mesa Rim Climbing in San Diego encourages responsible outdoor recreation, strengthening our symbiotic relationship with the planet we're so lucky to call home! Check them out at www.mesarim.com
The Golden Rule Boutique
Built on the mission to provide ethical fashion pieces for her customers, Jackie founded her fair trade company, The Golden Rule Boutique. This company partners with artisans in developing countries in order to provide them with a marketplace here in the US. In doing so, they are able to earn a livable wage and live healthier lives. We're obsessed with these leggings made from recycled water bottles (how cool is that?!). Find out more at www.thegoldenruleboutique.com
ALCE 101
The Moose Is Loose! We were so proud to serve ALCE 101's delicious small-batch Blanco distilled in Jalisco, MX. This farm-to-table "tequileria"is home to a garden where the kitchen and bartenders cultivate their entrees and cocktails from! They also donated their "Desert Gem" bloody mix - made from roasted tomatillos (aka a green Bloody Mary!🤤). Find out more at www.alce101.com
Y&Y Distilling Co.
"California's first destination distillery." You & Yours is a local San Diego company located in the heart of East Village. All of their spirits are distilled onsite with seasonal ingredients. They even offer tours of their location, as well as classes to learn how to make their incredible libations! Cheers ;) Check them out at www.youandyours.com
The Beverage Botanist
The sustainable cocktail queen!! Brianna Wilkerson is a San Diego native whose passion is to cultivate a community based on refreshing cocktails that don't harm our planet! Her service company focuses on sourcing local ingredients and using zero-waste practices for her delicious cocktails. We're talking homemade syrups infused with local herbs and spirits infused with seasonal produce. To book her for your next event, go to www.thebeveragebotanistsd.com
Beauty By Friend
Erica Friend (Yes her last name really is Friend!) specializes in making her San Diego customers look their best through cruelty-free hair styling and creative color. In order to elevate her business' impact on our planet, Erica is planning to re-do her studio to have a "Refill Bar" for her hair products so her customers can have a planet-friendly way to stay lookin' fabulous! Book your appointment at www.beautybyfriend.com
Magic By Ivy Stones
"Always handmade with love and charged with the best intentions. No crystals are ever the same therefore every piece has its own charm." Ivystones was created by V with the intention of providing vegan and organic pieces that keep the planet's health in mind. For example, her glitter is made of a combo of edible vegan glitter and biodegradable glitter! Check out her pieces at www.magicbyivystones.com
Thank you again to all of our partners + sponsors. Sip + Swap couldn't have been as successful without every single one of you!
THE IMPACT
One of our attendees actually went the extra mile to calculate the money she saved from Sip + Swap. After donating 15 items for the swap, Rosie was able to take the same amount of items back home with her.
Two of the items she found was a pair of LuluLemon leggings and a pair of (very) gently-used Vans Sk8-Hi's. Wanna guess how much these two retail for?
Now let's take a look at what Rosie actually spent for Sip + Swap. She ended up spending:
- Ticket price: $10
- Two cocktails @ $8 each (+ 20% tip 😉): $20
- Raffle tickets ($2 each): $16
- We'll even go as detailed as her gas mileage to drive there: $11
Total that all up and we get $56...which is STILL under the amount that those LuluLemon leggings retail for; don't forget those leggings were only one of 15 items she ended up taking with her. Now I don't know about you, but that's A DEAL!! That's hundreds of potential dollars saved on these pieces.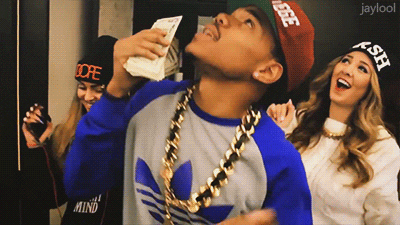 We were so happy watching everyone browse around and pick out "new"outfits while meeting each other! We got amazing feedback from our guests — most of them asking about when our next one would be! Being that this was our first event as a company, it was an INCREDIBLE feat for us to accomplish.
Did you miss Sip + Swap or are you just ready for the next one?! Stay tuned for our announcement of our next event: Spring Clean-ing Out Your Closet! Make sure to follow us on Instagram & Facebook, and sign up for our newsletter to be the first to know about the next Sip + Swap! (submission form at the bottom of this page).
Are you a vendor or company that wants to get involved in our next events? Email Lacie at lacie@lumaterramedia.com to reach out!
Last but not least, check out this awesome video recapping Sip + Swap! Videography courtesy of Mayorca Media!